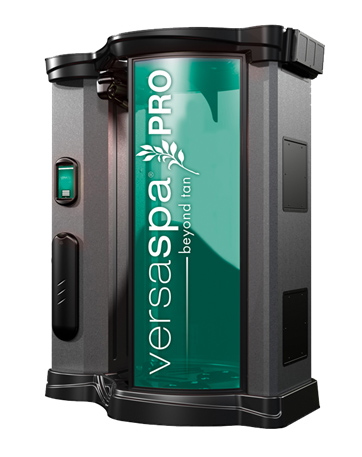 The Versa Spa Pro™ – is considered the latest in sunless tanning technology, delivering a customized sunless tanning spray based on your body size, skin type, and desired color. A completely private experience, with no appointment necessary, and most importantly, you will be tan in just one session.
Take the uncertainty out of sunless tanning with the VersaspaPro® Heated Sunless Spa Series. This cutting-edge technology gives you flawless results in the privacy of an automated spray tan booth. Our VersaspaPro® offers graduating levels of color and a moisturizing treatment that allow you to extend the life of your sunless tan.
• The spray bar now has 3 nozzles for incredible coverage.
• Both the tanning booth and spray are heated for your comfort.
• Numbered foot tiles eliminate confusion on how to stand in the spray tan booth.
• The equipment dries you automatically.
• Your resulting spray tan is 3 to 5 shades darker and can last 5 to 7 days.
• The open-air design allows you to breathe easily.
• Our best spray tan utilizes natural ingredients.
Please take time to watch the DEMO VIDEO while you are at Club Sun.
You'll love the "INSTANT GOLDEN TAN" you achieve with our "ALL-NATURAL 100% UV FREE" product. Your instant new tan should last between 3-7 days with proper maintenance (see staff for details and input). We look forward to helping you with your UV or UV-FREE Tanning needs in the future. If you want or need a beautiful bronze glow for weddings, proms, portraits, travel or everyday life, we are confident you will be impressed with the Versaspa. In 12 hours you can have that beautiful sun-kissed tan that will have you looking gorgeous for your occasion. At Club Sun, "we've got you covered!"
Be sure to inquire about the "SPA COCKTAIL!
TIPS FOR FLAWLESS SPRAY TANNING
Preparing for spray tanning tips:
• We recommend that you exfoliate and shave the day before or the day of your spray tanning session. The day before is preferred. (This would be applicable also to a man with hairy legs.)
• Refrain from using moisturizers, perfumes, lotions, oils or deodorants that create barriers between the skin and the spray tan solution. You can resume these after your first shower or bath.
• We recommend that your wear nail polish before your spray tan, even if it's just clear in order to prevent staining. Spray tans do not ruin acrylic or gel nails.
• Remove all makeup prior to your spray tan session.
After spray tanning tips:
• After your session, try to wear loose-fitting clothing.
• Avoid any products that will fade your spray tan such as certain bar soaps as well as body sprays.
• It is recommended that if you take your bra off while you're getting sprayed, then don't put it on again right away.
• It is normal to feel a little stick. This just means the solution is in its developing stage.
• If you touch your skin and do not wash the insides of your hands, your palms may end up getting stained. Your palms should not come into contact with the solution while it's developing but if it does, follow your tanning specialist's instructions.
• Spray tans generally last up to 5-10 days, depending on the formula you choose and the condition of your skin.
• Why we chose VersaSpa – VersaSpa makes you look as beautiful and empowered as you feel. In addition to providing a natural, beautiful tan, it is a skin care system that rejuvenates the skin. It is a high quality system that everyone loves.